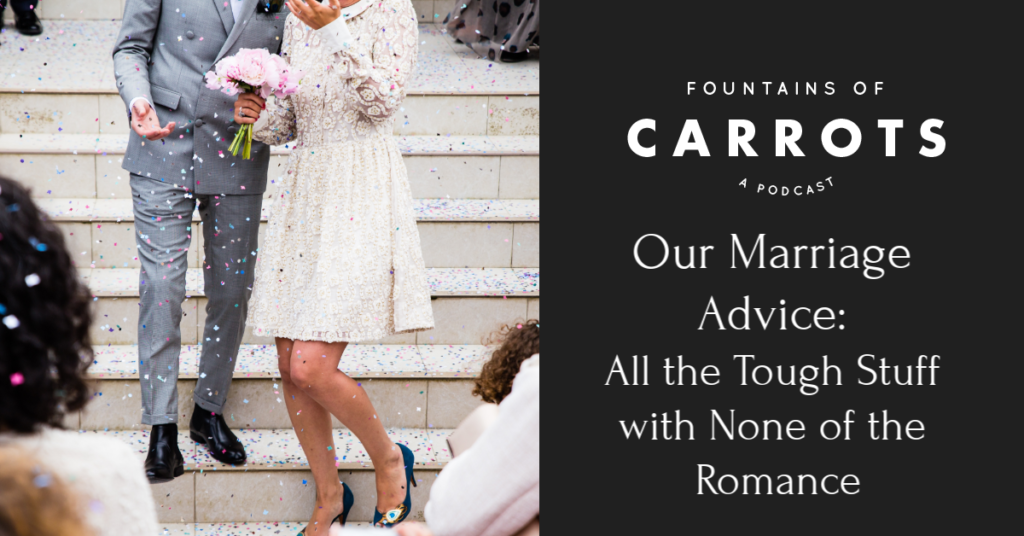 Podcast: Play in new window | Download
Every so often we like to do an episode with just the two of us to answer some of the questions we get frequently from listeners. Today we're covering….drumroll….MARRIAGE! It was Valentine's Day when we recorded and considering how we are indeed the queens of romance (har har) we got to talking about love, marriage, and all that mushy stuff. We try to keep things real and honest.
We're hoping that all our single listeners don't run straight for the convent after listening to this episode. (Or maybe that was our plan all along…increasing those religious vocations!)
In this episode we talk about the ups and downs that all marriages go through, what mindset shifts have helped us in embracing our vocation to marriage, and how we're awful at romantic gestures but we're pretty sure they aren't what really matters in a committed relationship. So grab a cup of coffee and enjoy!
In this episode we talked about:
(Link below is an Amazon affiliate link.)
When a mentally absent spouse is apportioned a third of a marriage: Elizabeth Scalia for Word on Fire
Patreon!
Do you love FoC and want to help us keep doing what we're doing (and more!)? Well, we have just the thing for you! Our Patreon is finally up and running so listeners can support the work we do.
Head on over to support the podcast as a patron and get access to special episodes available exclusively to patrons!
Come hang out with us!
Haven't joined in on the fun with 4,000 other FoC listeners in our facebook group? It's your direct line to some fantastic folks who also care about faith, culture, books, and whatever our current masterpiece theatre craze might be! Join in with the link below.I
You can listen to us on iTunes, and we'd love a quick rating or review. If you have an android device we're also on Stitcher. And as always, you can find all links, show notes, upcoming guests, and listen to all episodes at Fountains of Carrots.com.