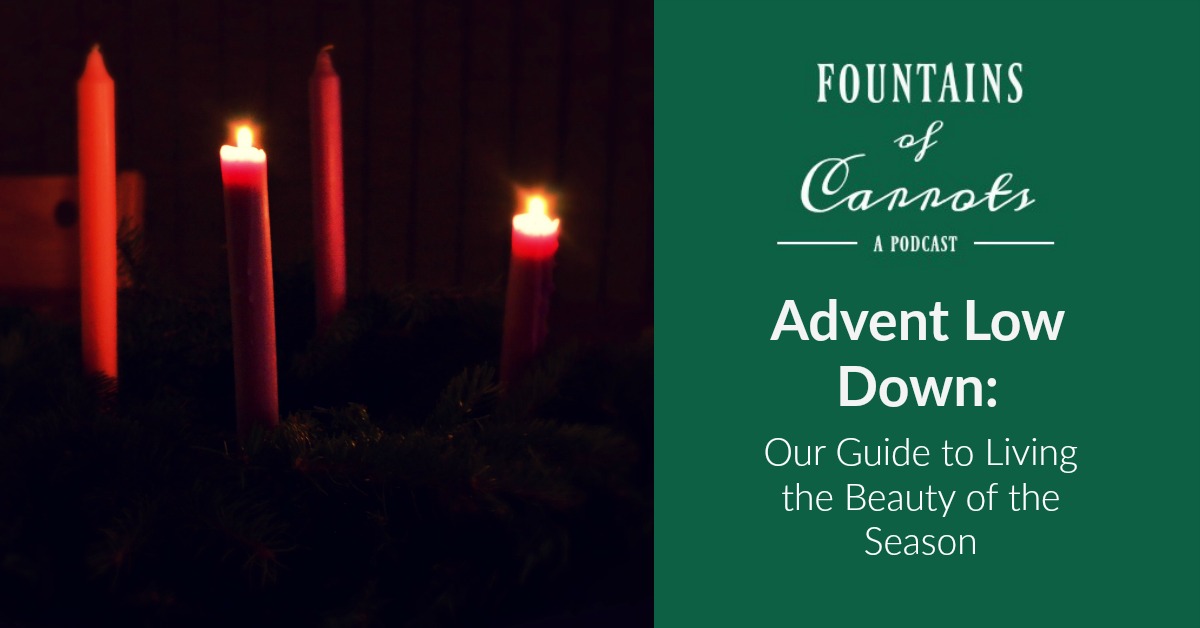 Podcast: Play in new window | Download
It's Advent! Since it's a favorite season of ours, we just had to devote a whole episode to Advent chat.  It's such a lovely time of year, but if we're not careful we can take on a whole load of stress instead of enjoy a season of refreshment and renewal. We wanted to talk about the Advent struggle and what we've learned over the years about being nourished by observing Advent and avoiding the pressure of making Christmas perfect.
In this episode we share about how we observe Advent with our families, how we bring quiet into our homes (and into our own whirring brains!), the importance of self-care so we don't get burnt out before Christmas, and (of course) what we like reading during this season.
So grab a cup of holiday tea and enjoy!
Music for Advent we talked about:
Advent at Ephesus by the Benedictines of Mary, Queen of Apostles
Book Suggestions for Advent we talked about:
Little Women by Louisa May Alcott
Watch for the Light: Readings for Advent and Christmas
The Reed of God by Carryl Houselander
Jesus of Nazareth: The Infancy Narratives by Pope Benedict XVI
Blessed is She Advent Journal by Elizabeth Foss
Comfort & Joy: Living the Liturgy Through the Advent Season by  Elizabeth Foss
The Little Oratory: A Beginner's Guide to Praying in the Home by Leila Lawler
The Catholic Woman's Companion (Planner by Nancy Bandzuch that Haley loves)  And here's a discount code for it (not sure when it expires, though) NIGEL35 for 35% off.
Movies we talked about in this episode:
Links we talked about in this episode:
Advent: Preparation for Preparation: Like Mother, Like Daughter
Names for a Christmas Baby and More Christmas Names: Sancta Nomina
Christy's Little Traditions, Big Reward: Living Liturgically to Grow Faith
Christy's Choosing Peace This Advent When You're the Mom to Littles
Christy's A Relaxed but Intentional Advent; or The Lazy Girl's Guide to Advent
Christy's G.K. Chesterton on How To Celebrate Christmas
Haley's Advent: Nourish Your Spiritual Life and Avoid the Holiday Burnout
Haley's 27 Picture Books for Advent and Christmas
Previous podcast episode:
Episode Sponsor:
This post is sponsored by Monica at Arma Dei: Equipping Catholic Families. Her blog is packed with Catholic crafts and family traditions as well as a shoppe of Catholic craft kits, books and quizzing cards packed with Saints and Sacraments through the Liturgical Seasons.
The Super Saints quizzing cards feature the original artwork of her 16 year old daughter.  They're packed with quick facts and formatted into cards your family can play real card games with! And this bundle is perfect for St. Nick's Day coming up on December 6th.
Monica also has a brand new line of Prayer Impressions Journal Stamps that will transform your Prayer Journal, Catholic Planner or Sunday Mass Missal, changing how you pray and focusing your spiritual habits.
To find these lovely products, check out www.ArmaDei.com. Use the code Carrots20 for 20% off cards and craft kits until December 15th (on purchase of $20 or more).
Come hang out with us!
You can listen to us on iTunes, and we'd love a quick rating or review. If you have an android device we're also on Stitcher. And as always, you can find all links, show notes, upcoming guests, and listen to all episodes at Fountains of Carrots.com.
Links to Amazon are affiliate links. At no additional cost to you, sales made through these links will support this podcast.
SaveSave