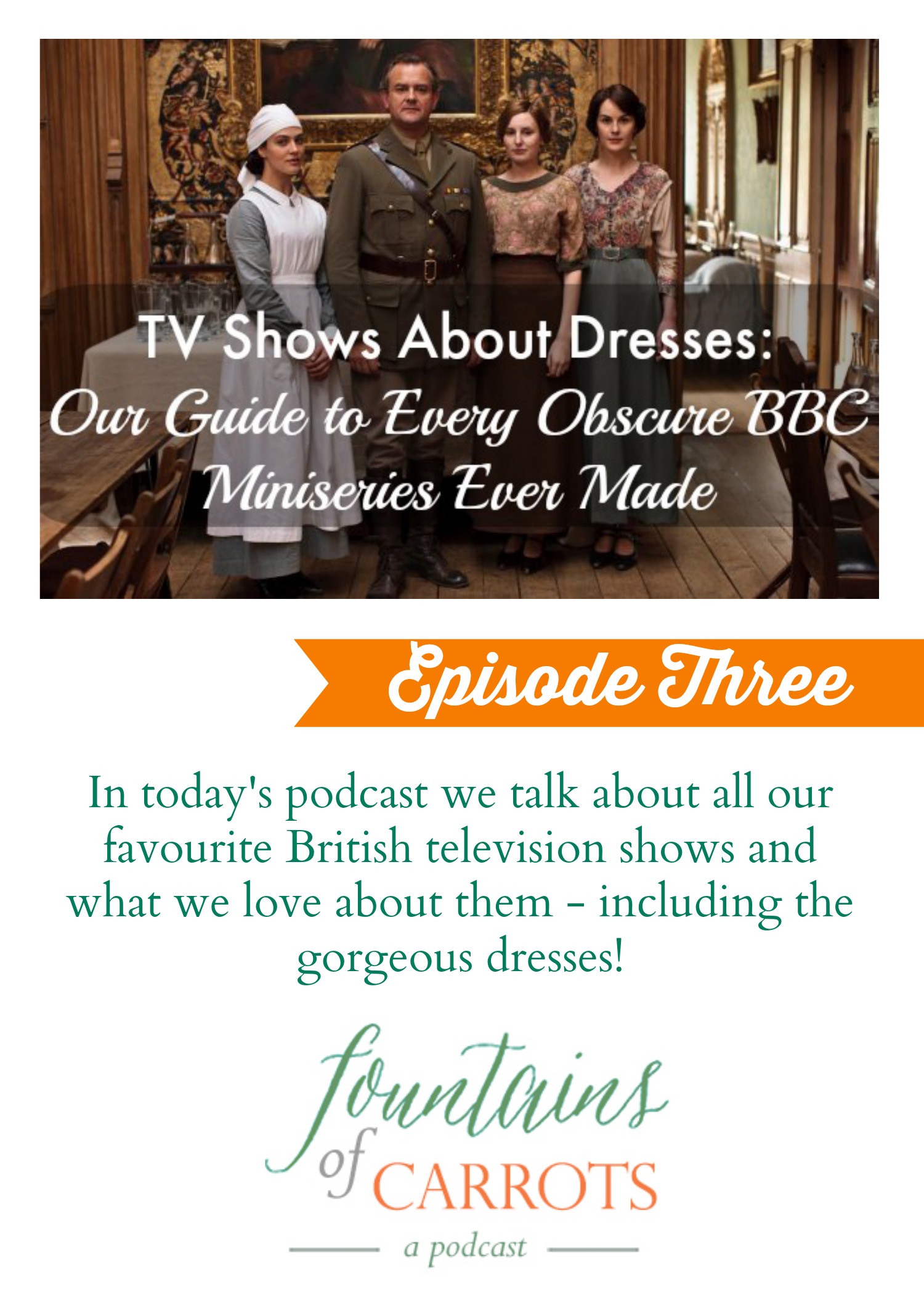 Podcast: Play in new window | Download
In today's episode we venture into a dearly beloved topic for us both: the British costume drama. We love em — if BBC has made it, we've watched it. We may get a little carried away and talk about it for about an hour, but we leave no stone-with-an-accent unturned and we hope this will give you great watching for all those late night nursing sessions, sick days, nights up late with sick babies, or laundry folding marathons. If we've missed any we're dying to know of more!
The Paradise: Season 1
Mr. Selfridge
Lark Rise to Candleford
Cranford
North and South
Wives & Daughters
Foyle's War
Downton Abbey Seasons 1, 2, 3, & 4
The Forsyte Saga
Daniel Deronda
He Knew He Was Right
The Way We Live Now
The Buccaneers
Aristocrats
Berkeley Square – The Complete Series
Anne of Green Gables
Anne Of Green Gables – The Sequel
Road to Avonlea
All Creatures Great & Small
Middlemarch
Brideshead Revisited
A Christmas Carol
Bleak House
Little Dorrit
Our Mutual Friend
The Bletchley Circle
Death Comes to Pemberley
Wuthering Heights – with Tom Hardy
Wuthering Heights
 – with Ralph Fiennes
Wuthering Heights
 (2011)
Jane Eyre (2012)
Jane Eyre – with Timothy Dalton
Jane Eyre – with Toby Stephens
Pride & Prejudice
 – the good one!
Pride & Prejudice – boo, the Kiera Knightley version.
Sense & Sensibility
– near perfection Emma Thompson version
Sense & Sensibility – version with the awful Governor from The Walking Dead
Emma
 – with Gwyneth and the amazing Toni Collette
Emma (2009 BBC Version)
Northanger Abbey
And last but not least, both regrettable versions of Mansfield Park
and Mansfield Park
.
These are affiliate links and when you click and shop through them you're supporting this podcast-thanks!
Make sure to subscribe on iTunes, and if you get a minute we'd love a quick rating or review! If you've got an android device, we can be found on Stitcher too. For all show notes, upcoming episodes, and more, visit FountainsofCarrots.com.
Coming next week: