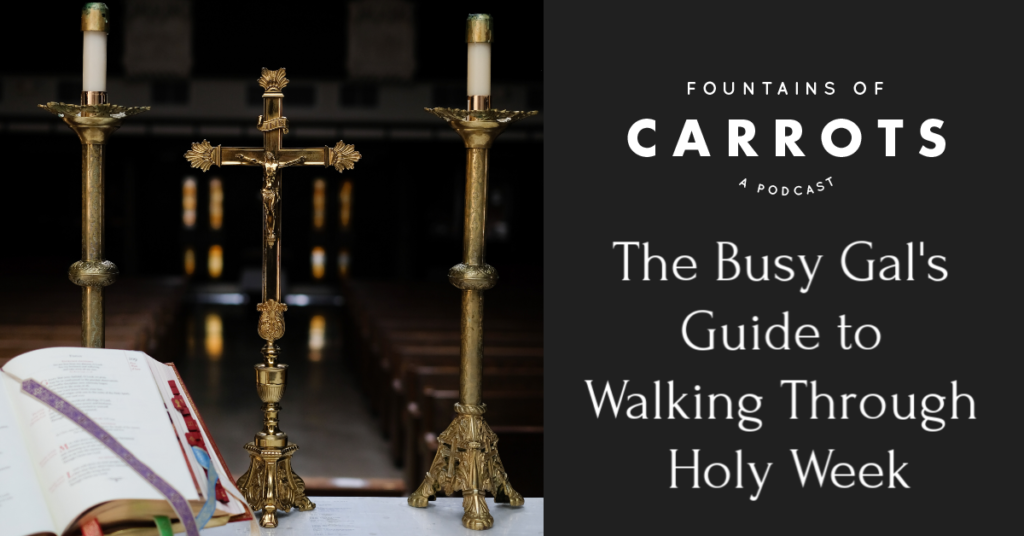 Podcast: Play in new window | Download
It's Holy Week and we're here to talk about how we do it. Now that we've all survived Palm Sunday Mass (AKA "stop poking your sibling with that palm during the LONG reading of the Passion, the palm is NOT a sword") it's time to really dive into this week that prepares us for Easter.
We recorded this episode before the Notre Dame fire and, to be honest, we're both still reeling from that loss. If you're grieving over it, too, we hope you find some joy in this episode and inspiration for walking with Our Lord in this holy time.
In this episode we talk about what Holy Week looks like at our houses. With 9 kids between us our homes are hardly filled with monastic silence, but the week does feel set apart. We share all about what Masses we try to attend, how to set a tone of somber reflection even with lots of kids, how we do Good Friday fasting for kids, whether we brave the Easter Vigil, special Easter traditions and more! So grab a cup of something penitential and listen in!
Patreon!
Do you love FoC and want to help us keep doing what we're doing (and more!)? Well, we have just the thing for you! Our Patreon is finally up and running so listeners can support the work we do.
Head on over to support the podcast as a patron and get access to special episodes available exclusively to patrons!
Come hang out with us!
Haven't joined in on the fun with 4,000 other FoC listeners in our facebook group? It's your direct line to some fantastic folks who also care about faith, culture, books, and whatever our current masterpiece theatre craze might be! Join in with the link below.I
You can listen to us on iTunes, and we'd love a quick rating or review. If you have an android device we're also on Stitcher. And as always, you can find all links, show notes, upcoming guests, and listen to all episodes at Fountains of Carrots.com.