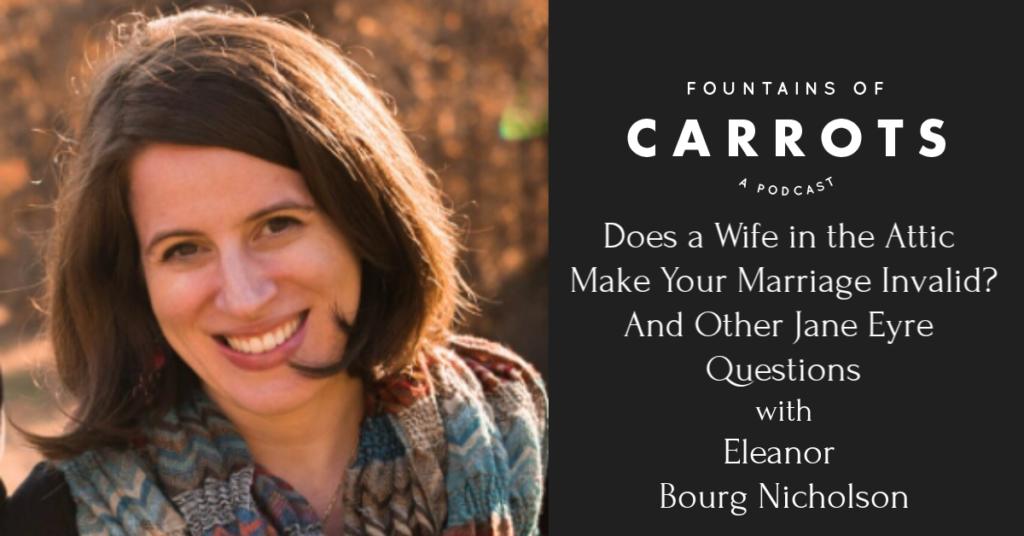 Podcast: Play in new window | Download
We're thrilled to have Catholic novelist Eleanor Bourg Nicholson back with us today discussing one of our favorite books of all time: Jane Eyre by Charlotte Bronte. Eleanor is a wife, homeschooling mother of four, director of religious education at her parish, former assistant editor at Dappled Things and the Saint Austin Review, has previously published a novella entitled The Letters of Magdalen Montague, and she has also edited the Ignatius Critical editions of Dracula, Mansfield Park, and Sense and Sensibility.
In this episode we nerd out on all things Jane Eyre! We start out with the importance of reading the classics and how good books make our souls expand. We also cover the very important questions such as whether Mr. Rochester's marriage to Bertha was really valid and if he could have gotten an annulment and saved Jane a whole lot of heartbreak. We have OPINIONS! So grab a cup of strong tea and imagine you're about to embark on a blustery walk on the moor.
Eleanor's new book:

Remember to use the coupon code CARROTS when ordering any of the Ignatius Critical Editions of the classics we discussed OR Eleanor's book from Ignatius Press to get 25% off!
Books we talked about today:
Links to Amazon are affiliate links.
About Ignatius Critical Editions
Our past episode with Eleanor: Delving into the Mind of a Catholic Novelist
How to connect with Eleanor:
Thanks again to Ignatius Press for sponsoring today's episode! What better time to read or re-read the classics than summer? Use coupon code CARROTS to get 25% off the retail price of the Ignatius Critical Editions, including classics such as Jane Eyre, Pride and Prejudice, Dracula, and Wuthering Heights. Each title includes footnotes as well as critical essays from Catholic writers and academics, including today's guest Eleanor Bourg Nicholson. See the full list of titles at IgnatiusCriticalEditions.com or search by title at Ignatius.com. Ignatius Press is also extending this discount to Eleanor Nicholson's novel, A Bloody Habit. Use coupon code CARROTS at checkout. Offer expires August 31. 2019.
Patreon!
Do you love FoC and want to help us keep doing what we're doing (and more!)? Well, we have just the thing for you! Our Patreon is finally up and running so listeners can support the work we do.
Head on over to support the podcast as a patron and get access to special episodes available exclusively to patrons as well as to the FoC Slack community!
Come hang out with us!
Haven't joined in on the fun with 4,000 other FoC listeners in our facebook group? It's your direct line to some fantastic folks who also care about faith, culture, books, and whatever our current masterpiece theatre craze might be! Join in with the link below.I
You can listen to us on iTunes, and we'd love a quick rating or review. If you have an android device we're also on Stitcher. And as always, you can find all links, show notes, upcoming guests, and listen to all episodes at Fountains of Carrots.com.