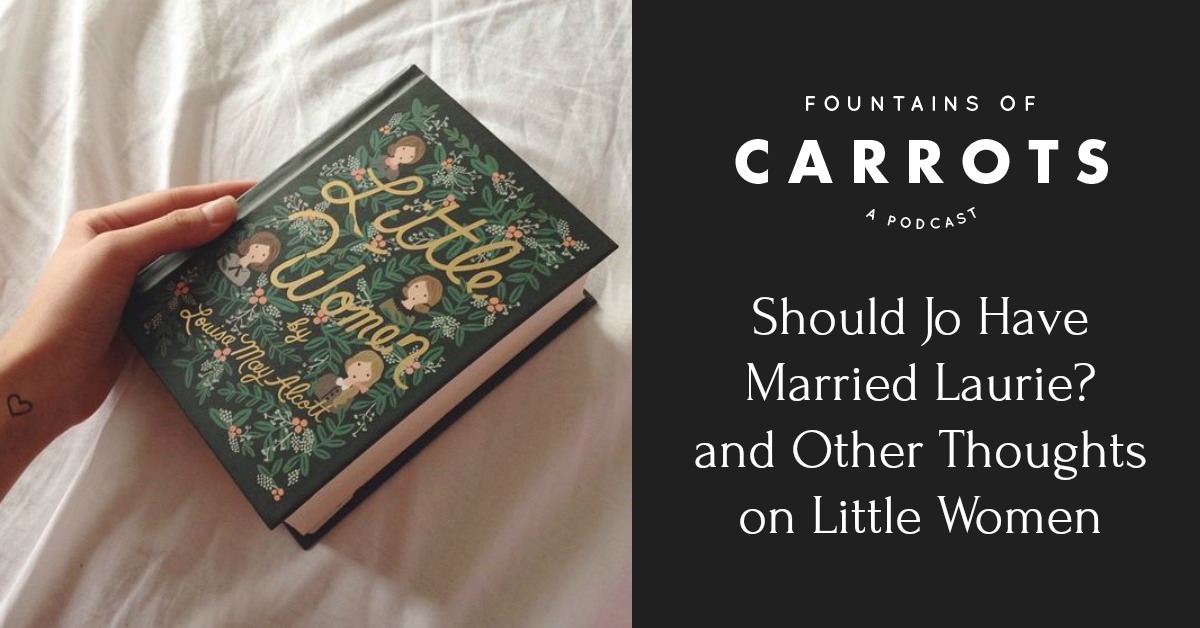 Podcast: Play in new window | Download
A new film adaptation of one of our favorite classics, Louisa May Alcott's Little Women has just been released to US audiences and so it seems like the perfect time to discuss this timeless coming-of-age novel. In this episode we tackle the big questions: do each of the March sisters grow and develop to the same degree? Should Jo have ended up with Laurie? What is the deal with Meg and John's weird marital relationship? And is Amy the literal worst?
We really dive into the romantic relationships in the story as well as determine which March sister we most identify with. We also discuss the pros and cons of the various film versions of the story.  This episode was a blast to record, so grab yourself a cup of tea and enjoy!
In this episode we talked about:
Haley's review for America Magazine of the new series for BBC/PBS 
This post contains Amazon affiliate links.
Books and films we talked about:
1949 version
Big News!
The book Haley has been working on for over a year with Ave Maria Press JUST became available for pre-order! AND THERE WAS MUCH REJOICING!
You can gain Haley's undying loyalty by pre-ordering your copy of The Grace of Enough: Pursuing Less and Living More in a Throwaway Culture today! Pre-orders are crucial to getting Amazon and bookstores to stock a book, especially for new authors, so pretty please support your neighborhood podcasting writing mama.
What's this book all about? It's part memoir and part reflection and guide to essential elements of intentional Christian living that Haley's family discovered during an extraordinary year on a farm (with no flushing toilets!) and that they continue to practice today in their little house in the city. You'll be inspired to:
live simply
offer hospitality
revive food culture and the family table
reconnect with the land
nurture community
prioritize beauty
develop a sense of wonder
be intentional about technology
seek authentic intimacy
center life around home, family, and relationships
And people who aren't just Haley's mom read it and liked it! Here's what they said:
"If you've ever yearned to make radical changes to your life that will bring you lasting satisfaction, this is the book for you." —Jennifer Fulwiler, SiriusXM radio host and author of Something Other Than God and One Beautiful Dream
"This book is an antidote to the Throwaway Culture, a blueprint to living a fulfilling life. What St. Benedict did for the early monastics, Haley has done for modern suburbanites and families: provide a compelling rule, a practical life plan, one centered on community, simplicity, and charity." —Brandon Vogt, Content director of Word on Fire Catholic Ministries and author of Why I Am Catholic (and You Should Be Too)
"Prophets wake us to our true state, call upon us to be better than we are, and demand that we think hard about the life we are living. And thus we shy away from prophets. Haley Stewart, however, won't let us escape so easily. Hers is a genuinely prophetic voice, but one so full of fun and the sheer joy of living that she thoroughly charmed and convinced me. A wonderfully wise book for our confusing and misguided era." —Paula Huston, Author of One Ordinary Sunday
Come hang out with us!
Haven't joined in on the fun with 3,000+ other FoC listeners in our facebook group? It's your direct line to some fantastic folks who also care about faith, culture, books, and whatever our current masterpiece theatre craze might be! Join in with the link below.
You can listen to us on iTunes, and we'd love a quick rating or review. If you have an android device we're also on Stitcher. And as always, you can find all links, show notes, upcoming guests, and listen to all episodes at Fountains of Carrots.com.